10 Best All-In-One Turntables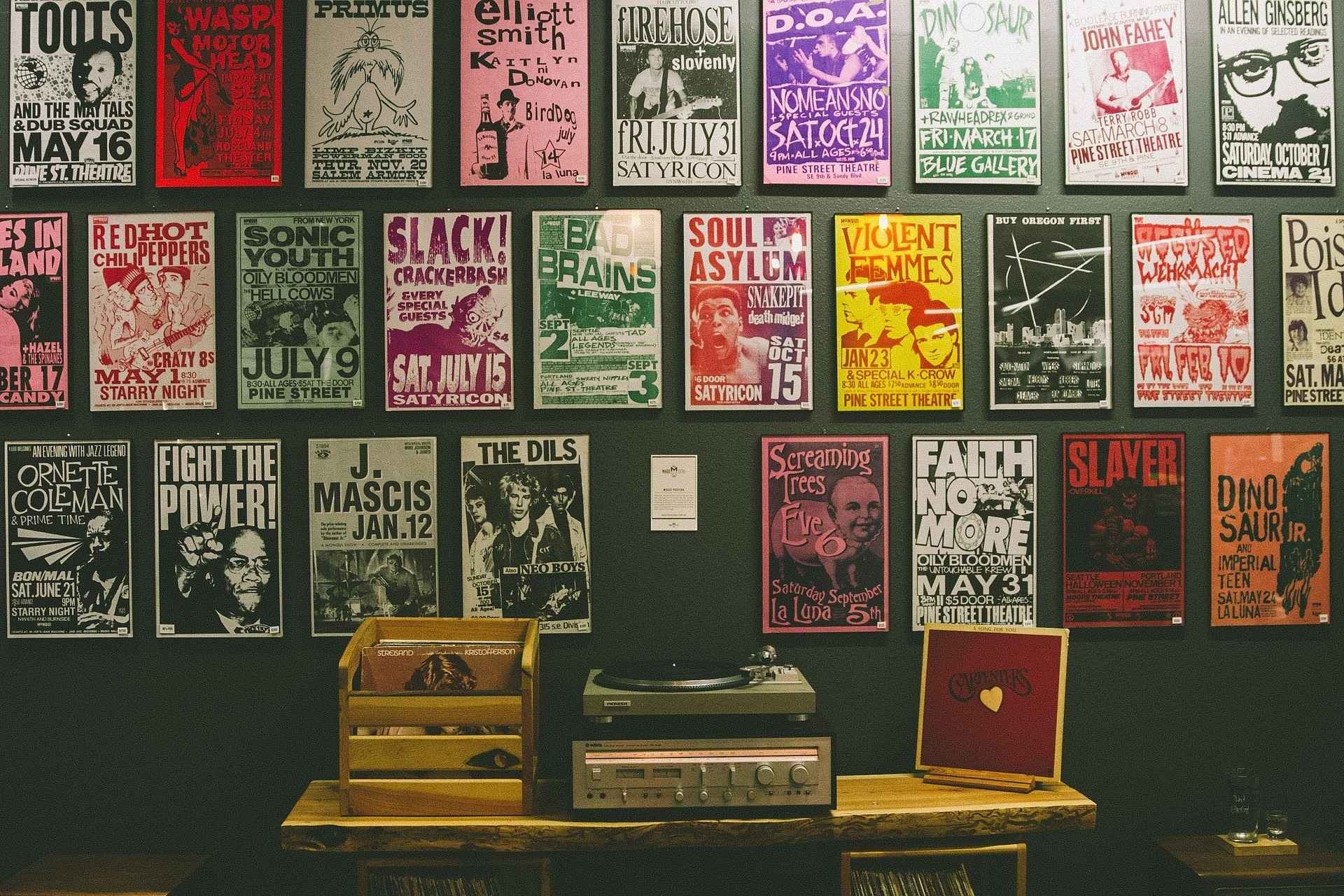 Here is the least of the best all-in-one turntables in the market today.
The Victoria comes with eight features. Firstly the 3-speed belt-driven turntable support *33 1/3, 45, and 78 RPM, which refers to the speed at which a vinyl record rotates on the turntable. Those are the most common speeds means you can play most of your records.
*The difference between those is usually the amount of music the vinyl can hold on a single side. For example, a 78RPM record can have around 5 minutes, and a 33RPM can hold about 20 minutes.
This turntable also includes a radio cassette player, Bluetooth, and AUX, so you get a lot of versatility with the features.
In addition, it features RCA outs, so you can always hook it up to a set of external speakers to get a much better sound.
You get a remote control, so putting it in your living room or bedroom is very convenient, but keep in mind there is no On/Off button, so you must turn the unit manually with the power button.
Its look is beautifully vintage, so it will fit your room and give an extra retro design to it.
And another cool feature is that you can record from vinyl to mp3, so if you got an old vinyl and want to keep it on new technology, it's an excellent option.
This all-in-one turntable is made of real wood, which is very helpful to give you the extra vintage look for your space.
The sound quality may be better out there, but for the low price, it's great if you are the average consumer or just a beginner.
Looking for a turntable that offers a retro and stunning look? You'll love the Electrohome Kingston 7-in-1.
If you're a beginner, you'll appreciate the three speeds (33 1/3, 45, 78). Those are the most common speeds for playing vinyl records, so you can play most of your records.
It comes with an option for listening to vinyl, from a cd or radio(AM/FM), and comes with Aux, Bluetooth, and USB. Those features give you a lot of versatility for the ideal listening sessions.
With the 3-speed turntable stereo system, you also get a remote control to ease your controlling ability.
It is pretty heavy and made from real wood, so it feels expensive and high quality.
The built-in speakers produce a rich and full sound. And the Bluetooth option has a fantastic sound as well.
Overall, this record player is an ideal choice for anyone looking for an affordable way to start their vinyl collection. It's easy to use, has excellent sound quality, and looks great.
Although it's less versatile than other turntables on the list, it is less bulky, and for some, it can look better than the other all-in-one turntables on the list.
It doesn't come with the ability for Bluetooth connection or listening to the radio, but it comes with AUX, headphones output, and RCA outputs so you can connect it to external speakers.
The sound from the speakers could be better, but it's still a great deal for the price. It is preferable you can connect the turntable to good external speakers, so you enjoy more from the music more.
It lets you connect to the computer and convert your vinyl to a digital audio file. So if you want to hear your vinyl when you travel, you can make digital files and upload them to your phone.
Overall, the ION audio max is Great if you think the other turntables are too bulky and prefer this design in your room or office.
Regarding features, it is less versatile than the other all-in-one turntables on the list. Furthermore, it doesn't come with a built-in speaker inside the product but two external speakers.
The assembly of this turntable is simple and with great instructions, but if you're afraid of assembling, think twice before buying it. You can also always watch youtube videos if you get hard times with paper instructions.
Another thing to remember is that there is no support for 78 RPM, so if you got a lot of older vinyl records with 78 RPM in your collection, you wouldn't be able to listen to them.
The record player's sound is crisp and preserves the warmth of the vinyl. Yet it's not the best quality you can find on the market.
The speakers you get included are good enough for the average listener, but if you plan on the best sound quality, consider getting other speakers.
It also comes with the ability to record digital files through a USB port. So you can always convert your records into a digital version.
With the Bluetooth function in this turntable, you can pair any device and listen to music through the turntable's speakers.
This turntable offers multiple functions, including vinyl record, CD player, cassette player, radio, USB, and Bluetooth connectivity. So you have many options for listening to your favorite music.
You also get the ability to record into a USB flash drive, SD card, and even cassette. A lot of freedom and options for recording.
The design of this turntable is a mix of wood that adds a retro vibe and a silver panel that adds to the modern design.
The sound quality from the built-in speakers could be better, but you can still connect the turntable to external speakers.
For the price, with the LoopTone 9 in 1, you get a lot of features and versatility, and a unique design.
Not only is the price of this turntable quite affordable, but moreover you will get external speakers.
You may transfer the music to an SD card or USB drive, and it comes with a radio, CD player, cassette player, record player, and other capabilities.
The DIGITNOW turntable also comes with Bluetooth, so you can hear music from your smartphone from Spotify, Apple Music, and such without connecting wires.
Thanks to the RCA output on the device's back, you may connect it to your own speakers or to the speakers it comes with.
Keep in mind that the speakers are not the best on the market, so if you're an audiophile, you may want to invest in another pair of speakers.
Although the design of the DIGITNOW is not retro and is the coolest on the list for the price, you get it's a great pick.
The Victrola 50's Retro's design is unique and inspired by the 50s, so it's ideal for 50s lovers.
Like many Victoria turntables, it's versatile and comes with features like radio, CD, and Bluetooth.
It also has headphones output, so it's great if you want to stay quiet while listening to your favorite music.
With the included software, you can easily connect the turntable to your computer and transfer the tracks from the vinyl to digital audio files.
The built-in speakers are ok but could be better, and you cant connect external speakers with RCA, but you can do it from the headphone's output.
Another versatile option in the list, the 1byone Nostalgic Wooden, gives you features like a radio to listen to your favorite FM/AM station, a CD tray to listen to your beloved CD collection, a cassette player to listen to your retro cassette, and more.
All this in a retro wooden design that can make your living room or office much cooler.
The built-in side speakers aren't going to blow you away, but the 1byone Nostalgic also comes with RCA output for external speakers connection, so if you are not satisfied enough with the built-in speakers, you got an alternative.
The belt-driven 3-speed turntable sounds pretty good for the price.
Furthermore, you can transfer the vinyl record, CDs, and cassette music to digital audio files with a USB stick.
The design of this one is interesting, and it's small relative to the bulky ones on the list made with fake leather, and it's actually a portable suitcase.
It has built-in speakers, but they need to be better. On the other hand, it has RCA for external speakers connection, and you can find pretty cheap but great external speakers online if it bothers you.
It comes with a headphones jack, so you can connect your headphones and listen to music quietly from the room without bothering any family members.
Another great feature here is Bluetooth which lets you stream music from your device to the suitcase.
Overall this turntable provides many features when you consider the budget price tag, and that is actually a small suitcase. It is great for you if you are searching for something that looks cool and doesn't cost much, and you can pick up a suitcase anywhere.
It doesn't come with many features like a cassette player or CD player, and more from the list, but it still looks nice, and you can still transfer music into a digital file from the vinyl record.
It also doesn't have Bluetooth or radio but comes with AUX input and a record player.
The speakers' sound is not the greatest, but you can connect external speakers with RCA.
Overall it's a basic turntable but for a good price. It can be nice if you're a beginner.
What is an all-in-one turntable?
As the name indicates, an all-in-one turntable has all the components for playing vinyl records, including the record player, built-in amplifier, and speakers, so you don't need to buy more gear.
One significant advantage of systems with turntables is their ease of use. Just plug it in and listen to your favorite tracks immediately!
Certain versions additionally have CD and cassette players and USB/Bluetooth connection, allowing you to listen to vinyl records, record them to your computer, or stream music from other devices. This is why you see some 8-in-1 and such in the review section.
There are some drawbacks to the all-in-one turntables. Some turntables can be lacking in sound quality and could ruin your vinyl in the long run. Sometimes quality over quantity here.
But you don't need to worry about those drawbacks if you get a high-quality turntable.
Benefits of an All-In-One Turntable
Turntable systems take up minimal room and are user-friendly.
Furthermore, they're relatively cheap compared to more complex systems that need additional components, making them popular among many record-collecting music lovers who have just started.
An all-in-one turntable is ideal for beginners and budget consumers. Their setup and use process is relatively straightforward, so you don't need to spend hours reading instructions or watching YouTube videos before you can start listening to your record collection.
What Should you Expect From All-in-One Turntables?
When purchasing an all-in-one turntable, you can generally anticipate the cartridge and stylus to be of poorer quality than a standalone turntable. Also, the speakers on certain models need to be better.
In the end, all-in-one turntables are ideal if you are a casual listener or need more options in one system. They come with everything you need to play records. But, if you want to take your record collection seriously, you should get a specialized audio system with excellent components or a more expensive turntable.
What to Consider When Coming to Buy an all-in-one turntable
When buying an all-in-one turntable, there are several factors to consider. From sound quality to price range, there's much to consider. In this section, we'll help you make an informed decision on the suitable all-in-one turntable for you.
Sound Quality
There are a lot of factors to consider when choosing an all-in-one turntable. One of the most important is sound quality, which varies from model to model. Some turntables have better speakers and can deliver a fuller, crisper sound. If you're buying your first turntable and have yet to learn much about audio equipment, look for one with built-in speakers or one that allow you to connect external speakers using AUX or Bluetooth.
When considering the sound quality, it also depends on which platform you're using.
So, for example, if you plan to use the cassette option in your all-in-one turntable, the vinyl sound is less important, and you should focus on the one with more cassette options.
Features
When it comes to buying an in-one turntable, you should also consider the features it's come with.
Some come with modern features, and some with limited features. If you need extra features like playing CDs or convenience features like Bluetooth, Consider the cool features you need before considering which one to go with.
Other excellent features you can look for are cassette and radio.
Price Range
You can find a lot of all-in-one turntables that go around 100 $, and they may be just fine for your needs. Still, on the other hand, if you plan on using the all-in-one record players to hear records more seriously, you should consider more expensive turntables.
The more expensive turntable can help you get a better experience with your vinyl collection, from better sound to let your vinyl records last longer.
Portable Options
Another factor to consider when you want a new all-in-one turntable is portability. For example, you can find a portable turntable that looks like a suitcase. But you trade off some features that the more bulky and bigger all-in-one turntable comes with.
Conclusion
Choosing the best all-in-one turntable for you depends on your needs, which features you want, and what your budget is.
The best overall turntable for the average guy is Victrola 8-in-1. It has a lot of helpful features, and it comes with a great price point.